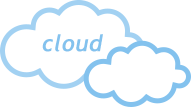 EXPERIENCE
ASP has
long-term experience
in providing business of all its product in form "clouding". We have a few satisfied customers who are using GTFacility and GTSolution this way.
CAPACITY AND SAFETY
ASP disposes of
a sufficient server capacity
running on Internet datahouse of stable provider. We are able to provide then
data and operational safety
of the high standard.